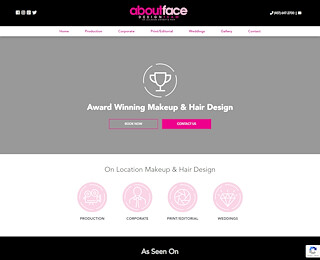 Are you in search of a talented Editorial Makeup Artist in Orlando? At About Face Design Team, we offer unsurpassed print and editorial makeup and hair care at competitive prices.
Top reasons to choose our print and editorial makeup
Editorial makeup requires an in-depth understanding of the model's skin tone and the type and theme of the photoshoot. We possess the experience to make a model look fresh and flawless for an editorial photoshoot. We offer both hairstyling and face contouring for editorial photo shoots. With a comprehensive knowledge of the most recent trends in fashion, we prepare the model to fit the photographer's instructions to the letter.
From creating the perfect cheekbones, eyelids, and forehead, we sculpt the perfect look to complement the setting and theme of the shoot. We have worked with major publications in the country like Grace Ormonde, The Knot, Golf Magazine, etc., and our multi-talented team can give life to any complex concept that you may have in mind.  
Important areas of editorial makeup
When it comes to editorial makeup, it is an amalgamation of professional contouring, understanding of current trends, and the mood and concept of a photo shoot. Through professional contouring, we try to create flawless skin using appropriate makeup products. 
To attract the attention of trend-hungry followers, we try to see what makeup trend is about to come up next season and create a look that offers readers a certain direction of beauty. Lastly, we use makeup to enhance a certain mood and tell a compelling story.
Hottest editorial makeup looks in 2020
We create the most iconic editorial makeup looks for the clients that come to us for makeup inspiration for their photoshoots. Here is our prediction on some of the most relevant editorial makeup looks for the year 2020:
Bold and dramatic glamour
This type of makeup look involves using dark colors and creating sharp lines. The red lip contrasts against the pale skin of the model can offer a vampiric vibe, while the winged eyeliner complements the angled brows.
Ice queen
This editorial makeup look is a contrast between light and dark. With this look, we try to create a heightened pale tone on the model and follow it up with sharp contour lines along the cheekbones. These sharp contrasts work magically well for the camera, making for a definite trendsetter this year.
Urban glitter
Here, we focus exclusively on the eyes! We use warm and cool undertones of eyeshadow in the inner corner of the eyes and blend them out with black on the outer edges. This "smokey-eyeshadow-effect," along with the smudged black eyeliner on the lower lash line, yields a dramatic look that would fit perfectly on any magazine cover.
At About Face Design Team, we have worked for some of the leading publications in the business like Grace Ormonde, The Knot, Golf Magazine, Orlando Magazine, and Orange appeal. To learn more about our editorial makeup artist in Orlando, call us at 4076472700 or visit our website.
About Face Design Team
4076472700
601 S. New York Ave.
Winter Park
FL
32789
US