Production Makeup Artists for HDTV, Web Productions, Podcasts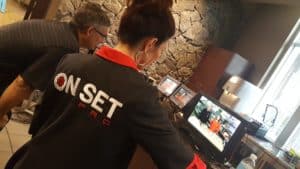 Lights!  Camera!  Action!  About Face Design Team's  "On Set PRO Makeup Artists" have the expert skills needed for today's higher resolution and unforgiving high-def picture quality. Experienced with all forms of Television, Web, Original Productions, Documentaries, Reality, Investigative, Pre-Tapes, On-Air Live, and On Location Live Tournaments.  Our professional makeup artists are trained in the specific makeup application and color balancing techniques needed for RED camera as well as blue screen and green screen shooting. Our expert Makeup Artists are precise and consistent while creating a clean, color-correct and lightweight look that stands up to high-def scrutiny.
About Face Design Team professionals will pass all security clearance for VIP's such as Politicians, CEO's, Actors, Entertainers, and Pro Athletes and provide discrete, private  and confidential communication with all high-profile clients.
HDTV
RED Camera
Blue/Green Screen
Film
Pre-Tapes
Live On-Air
Reality
Video Production
Webinars
Commercials
Corporate Videos
Corporate Events/Keynote Speakers/Jumbotron
Documentaries
Infommercials
Post Operative Videos
Production Booking Form