ANTI-AGING AND SKIN REJUVENATION
If you are among the many men and women looking for the "fountain of youth," spending your hard-earned money on treatments, skin care, surgery and lots of other "procedure" has probably crossed your mind. 
About Face Design Team offers effective anti-aging skin rejuvenation treatment plans to fit your specific needs. Offering Microchanneling and Microdermabrasion, these treatments are geared to refresh and rejuvenate your face, throat, and decollete.
Anti-Aging with Microdermabrasion 
Microdermabrasion removes the dead skin cells that lay on the surface and that keeps skin looking dull and lifeless. A gentle exfoliation Microdermabrasion treatment will refresh and rejuvenate your face, throat, and decollete so your skin looks and feels smoother, softer and more supple. 
Microdermabrasion is a non-invasive procedure used to renew overall texture and skin tone. It can improve the appearance of sun damage, wrinkles, fine lines, age spots, acne scarring, melasma, and other skin-related concerns and conditions and is considered a safe procedure for most skin types and skin tones. 
Microdermabrasion improves:  
Fine lines and wrinkles

Hyperpigmentation, age spots, and brown spots

Enlarged pores and blackheads

Acne and acne scars

Stretch marks

Dull-looking skin complexion

Uneven skin tone and texture

Melasma

Sun damage
Anti-Aging with Microchanneling
Like the "Fountain of Youth," this collagen stimulating facial treatment is for the person who wants to soften scars, help rosacea, reduce large pores, reduce fine lines and wrinkles, increase elasticity and firmness, and/or minimize age spots. By using the award-winning ProCell Therapy device, the epidermal layer of your skin will be slightly aggravated, then induced with growth factors and hyaluronic acid, causing the stimulus-response to the body and promoting the production of collagen which is needed for healthier and more beautiful skin. Results vary from client to client and at least 4 treatments are needed to see results.  
Microchanneling

What is Microchanneling?
Microchanneling is the next generation of Microneedling because it is safer, less invasive, allows for less downtime, and leaves clients with healthy rejuvenated skin and a far better, longer-lasting outcome overall. Once you have had a ProCell Therapy Microchanneling session, you will see results and come back for more!  
Microchanneling improves the appearance of the following:
Fine lines & wrinkles

Uneven skin tone & texture

Acne scars/surgical scars

Hyperpigmentation, age spots and brown spots

Rosacea

Enlarged pores 

Acne and acne scars

Stretch marks

Firmness & Elasticity

Dull-looking skin complexion
What is the difference between Microneedling and Microchanneling?
Similar to Microneedling, the main difference between Microchanneling and Microneedling is  the type of device used to perform the treatment and the technique that is used. Both should be performed by a trained technician. 
Microneedling typically involves using a handheld "roller" or "pen" covered in tiny needles that is dragged over the skin which can actually tear or scar the skin. However, Microchanneling uses a "stamping" technique, which creates micro vertical channels into the skin for better product penetration and less trauma to the skin. Performing the treatment with this technique and with the award-winning ProCell Therapy Microchanneling device, we prevent or eliminate the possibility of micro-tears to the skin, as well as overworking the skin, which can cause unnecessary damage.
ProCell Skin Rejuvenation Treatment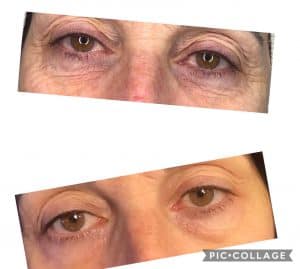 The ProCell skin rejuvenation treatment using the Award Winning ProCell ™ Therapy that combines Microchanneling with ProCell Livra ™ MD System and StemCell Growth Factor Serums.
*Results vary from person to person* 
For maximum results, we recommend combining your Microchanneling treatment with Microdermabrasion. The results are absolutely amazing and longer-lasting for a more youthful, glowing, clearer, firmer, softer complexion. You will see and feel it immediately!
Face $300

Face & neck $350 

Face, neck & chest $475

Entire Arms & Hands $500

Stomach $300 & up

Knees $300

Inner thighs $300 & up

Outer thighs/buttocks $475 & up

Add Microdermabrasion $50 to ProCell Microchanneling appointment (reg $100)
Prices are per treatment and subject to increase/decrease according to treatment plan. Special package prices available.