What It Takes To Be On-Location Production Makeup Artists & Hairstylists for Golf Channel's Reality Show "Big Break"
Since the re-airing of the original series of NBC Golf Channel's Big Break this year, we thought it would be fun to give you some insight on what it takes to work on the crew for such an amazing original reality series!
When it comes to doing on-location key makeup & hairstyling for television production for the award-winning reality show "Big Break," Orlando's very own crew from About Face Design Team was no stranger to it. After working on 13 different seasons and on locations around the globe we, along with 70+ other crew members, became experts in traveling with our work!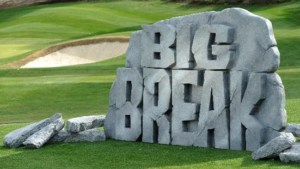 In the past, we had traveled some for various clients, but this was like no other and it completely changed our perspective on what it takes to do makeup, hair styling and men's grooming for reality television, and to do it with excellence. Most people never stop to think about the "behind the scenes" work when sitting down to watch their favorite shows….unless they have worked in television production themselves.
Just what does it take to make a reality tv show happen? It takes lots of money, coordination, time, and hard WORK! It is so much harder than just walking into a TV studio or on a hot set every day and working in a comfortable and controlled environment, i.e., heat or a/c, lights, tables, and chairs.
If you are a professional makeup artist or hairstylist, here are some things you will want to know so you can be prepared to work on location near or far:
Have your passport and global phone ready
Make your list and check it twice
Order and pack what you will need and a little extra "just in case"
Be ready to improvise if necessary
Be flexible
Trust your gut and intuition
Inform your credit card company you are traveling
Have cash
Know the climate you are traveling to
Have a paper itinerary with contacts and other valuable info so just in case you accidentally drop your phone in the toilet at the airport, you have back up information at hand 😊
Be patient, make friends, and enjoy the experience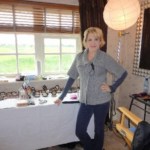 Little did we realize how long beforehand we had to start preparing for such a huge project. In our "all things glam" department, it was imperative to have everything we would possibly need, and lots of it, as it pertained to doing our job well. We had to have lots of makeup, hairspray, combs, brushes, curling irons and blow dryers, suitcases, set bags, boots and britches, high heels and sneakers, rain jackets and swimsuits, passports and all! Just one small example of our stock…we would use conservatively 500-600 disposable makeup sponges during the 2 weeks of shooting, dozens of mascara wands, as well as endless amounts of sunscreen and that, is just the tip of the iceberg! Many weeks beforehand, supplies had to be purchased and packed carefully, by our very own Orlando makeup artists and hairstyling team, in large crates to be shipped via cargo. Then, depending on where the show was being shot, it might take up to 6 weeks or more to make the journey and arrive on schedule. Furthermore, a complete inventory on a manifest had to be provided for every single item in each department including serial numbers, price, description, etc. so that it could all be checked at the port of arrival. Let that sink in for a minute. We shipped every single thing it would take to provide professional makeup and hairstyling for a reality television show remotely…sometimes even on a different continent. We needed everything from power adaptors to scissors, clippers to powder puffs, and spatulas to spray tans! To make it just a little more complicated, we had to carry the "imperative" items we needed on the plane just in case our luggage or crates were held up in customs or got lost in flight and would keep us from starting our jobs on time. Thousands of items and tons of weight equals a lot of money, time, and effort invested. Then, once everything arrived on location, it had to be accounted for by each department, unpacked, and set up in their respective areas and ready for the show taping day 1. Pronto. No time to waste!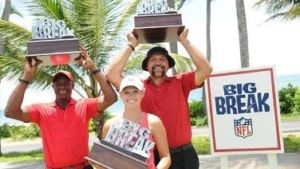 The early shift "Powder Puff Girls" (as we were affectionately called) started makeup and hairstyling on the hosts at 4-5 am and the early camera crew would begin setting up to shoot breakfast with the contestants by 5:30 am.
Once breakfast was shot then everyone hauled it straight to the course by 7 am to set up for the first challenge. Most workdays were long and wrap time usually ended with interviews by 11 pm or many times later…depending. Which made for very long and exhausting days!
Over the course of 13 seasons of NBC Golf Channel's Big Break that our Orlando makeup and hairstyling team worked gave us the amazing opportunity to work in 6 different countries, and in some more than once. One of our favorites places we filmed in was Ireland. However, a bit of a struggle at first to adjust quickly to a 5 hours difference.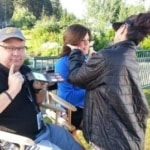 Nevertheless, everyone was on point and ready to do their jobs when the director would start the count down. Many of the crew would work tirelessly 16- hour days and for 12-18 days straight in extreme conditions and all with a smile and great attitude. The weather extremes went from cold and damp requiring rubber boots, heavy clothes, and waterproof gear for Big Break's 11th season show filmed in PEI, Canada and their 16th season of Big Break filmed at K Club in Straffan, County Kildare https://www.kclub.ie/golf/, Ireland (which has their very own weather extremes in a 24hr period, lol), to extreme sun, heat, humidity, and daily summer rains of South Florida and Puerto Rico (where Big Break NFL has filmed https://www.doradobeach.com/ and the Ritz Carlton Dorado Beach with 6 of NFL's all-time greats including Chris Doleman, Jerry Rice, Tim Brown, Mark Bulger, Al Del Greco, and Mark Rypien), as well as the beautiful Dominican Republic at Casa De Campo https://www.casadecampo.com.do/. However, the most perfect climates for makeup and hairstyling on location were filmed in the Bahamas. Big Break Atlantis was the 17th season of the reality show and was contested at the Paradise Island Golf Course on Paradise Island Bahamas https://www.atlantisbahamas.com/ (coincidentally where one scene of the James Bond thriller "Casino Royale" with Daniel Craig was filmed) and Big Break Sandals Resort Season 13 filmed at Sandals Emerald Bay Golf Course in Great Exuma, Bahamas https://www.sandals.com/emerald-bay/. All are amazing resorts for family fun as well as golf!
Rain or shine, hot or cold, exhausted or well-rested, the crew all came together like one "BIG" happy family to make it all happen and help create an amazing show every time!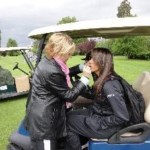 One of the nicest things about the whole experience was the fact that we met people we would have never had the opportunity to meet, stayed in some of the fanciest golf resorts in the world, made lifetime friends with some of the cast, the crew, as well as the hosts. But, the best part was seeing how many contestants really did get their BIG BREAK and are now living their dreams on the PGA and LPGA Tours, found the love of their lives because of the show, and have moved on to fulfill their dreams and live life to the fullest.
To sum it up, not only was "Big Break" hard work, fun, and an amazing opportunity, but it was hugely rewarding and an experience we will never forget. It was a great honor for us to watch others see their dreams come true and for our Orlando on-location makeup and hairstyling company see our dreams become a reality as well. This is just proof that dreams really do come true when preparation meets opportunity!
See more production behind the scenes photos at https://aboutfacedesignteam.com/production-makeup-hair/ or for information regarding your production, print, editorial, commercial, video, wedding, in-salon or on-location makeup artists, hair styling or male grooming needs, go to www.aboutfacedesignteam.com, email info@aboutfacedesignteam.com, or call 407-647-2700.
If you would like to watch all of the amazing Big Break seasons, click here.
With Love & Lip Gloss,
Gina and Kari – Your "Powder Puff Girls" 💋 at
About Face Design Team