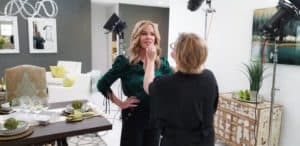 Hiring professional makeup & hairstyling can help make your image match your brand and give you what it takes to take your brand to the next level. First impressions say a lot about a person, business, or brand, and whether we like it or not, it sends a message to potential clients. In fact, it has been said that when it comes to first impressions, you either make a statement or pose a question.
It is important to ask yourself the question "does my professional image match my brand or the brand I represent?" If you are not sure, then read on because you never get a second chance to make a first impression!
Over the past year, we have had the privilege of working with one of Central Florida's top Realtors, Lynda Miller of Premier Sotheby's and WFTV's, Channel 9, Real Estate Home Expert. Lynda's success has been recognized with numerous accolades that include Orlando Style Magazine's 5-star Realtors and Orlando Magazine's Hot 100 Realtors 2020.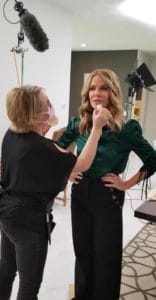 Lynda is a staging Real Estate Expert and she believes in the power of "visual presentation," aka "first impressions," and it shows. Upon meeting her, it is easy to see she not only believes it, she lives it!
We believe this is one of the many aspects that sets her apart as a 5-star Realtor and has made her so successful. Lynda can take any ordinary house make it look warm, inviting, and make it an extraordinary home that attracts buyers. The beauty and individual personality she brings to every house she touches is an extension of herself and the brand image of her broker, Premier Sotheby's and that's what makes her a winner!
Anytime Lynda steps in front of the camera as Channel 9's "Real Estate Home Expert," she calls on us to help with her makeup and hairstyling for on-camera segments and photo shoots. She, like many of our corporate clients (male & female), understands the importance of professional brand image and why hiring Orlando professional makeup and hairstyling experts helps her present a great first impression. What Lynda Miller is to Real Estate "Home Staging," About Face Design Team is to "Professional Makeup & Hairstyling" for brand imaging. Our team specializes in a variety of makeup, hairstyling, and men's grooming services that help polish the professional image, and overall first impressions for both women and men alike.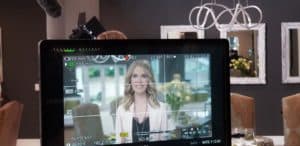 Do you find yourself in front of the camera, on zoom meetings, Youtube, or live podcasts?
Would you like to feel more confident, attract more clients, and boost your personal brand image?
Let's talk to see how our specialized services can help. Call us (407) 647-2700.
Check out photos of some other business clients we have helped by visiting aboutfacedesignteam.com.