Orlando production hair and makeup teams work hard to make their clients flawless on screen. Today we're sharing some behind the scenes facts about what it's like working in the trade!
There are many different scenarios an Orlando production hair and makeup team encounter each day on the job. At About Face Design Team, our job is to help make our clients look like their best selves in any production setting and lighting whether it's Ultra HD, 4k, LED walls, or even on a jumbotron! Here are a few facts you might not have known.
The Work Starts Long Before and Hair or Makeup is Applied
Before anyone shows up on set in Orlando, production hair and makeup teams are hard at work planning the details. With a pre-production meeting to go over the timeline of the job, the team will discuss who needs hair and makeup and logistical issues for the day. This way the styling team will show up to set prepared to work quickly and efficiently to get talent on air ready.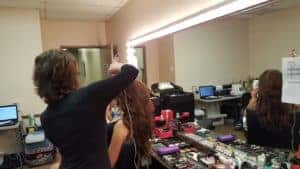 The Team is Prepared No Matter the Situation
No matter how much planning happens before the day of the shoot, it's important for the team to be able to adapt to any situation and all types of weather conditions. For example, with the hot 100+ degree summer weather in Orlando, hair and makeup teams work hard to keep talent looking perfectly fresh, even for ten hours or more of a shoot. Other obstacles can include unexpected touch-ups during live TV events or changes in production schedules due to outside influences.
To be prepared, we can set up our team anywhere! We carry portable director's chairs, lights, set bags, and even a table! Plus, our kits have over 200+ items to handle every skin tone and hair texture.
We Know How to Apply Makeup in Different Lighting Scenarios
What makeup works for everyday application isn't always right for production use. Light can affect how makeup looks on different skin tones dramatically. Colors that look okay in outdoor light on camera can look too bold under stage lights, and makeup that looks great under cool lighting can look washed out under the warm light. Our team are experts and know exactly how to adjust the makeup so the talent is the star.
We Keep Up With the Latest Trends
The work isn't over for our Orlando production hair and makeup team! We are diligently learning the latest and greatest makeup and hair trends. No matter the current trend, we purchase the specialty products needed and learn the specific techniques used to achieve the look. Our talented team can help anyone look like their best self, regardless of sex, skin tone, or hair texture.
As an Orlando production hair and makeup team, we've worked on many great projects over the years. From the Grand Floridian to the Grand Ole Opry, our dedication and meticulous approach guarantee the talent will look fresh from the first shot, throughout the day, and until the director calls, "WRAP!"
Do you have makeup questions? We can help you with all things Orlando production hair and makeup! Let's Chat!