Field Report by Kalie Drake, Bridal Department Coordinator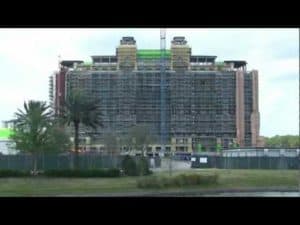 When I was asked by one of our favorite photographers, Victoria Angela Photography, to beautify a model for an upcoming photo shoot, of course I said YES! That was even before I learned how special this session would be – a luxury hotel that's still under construction, with only 2 finished floors?! Pretty cool to be able to say we did hair and make up for the first bridal shoot that had ever taken place at this amazing location, the FOUR SEASONS RESORT ORLANDO AT WALT DISNEY WORLD®.
The model, Takara Pate, met me at our Winter Park studio for hair and makeup and then we headed to the hotel.
That's when I learned that everyone who came onto the construction site had to wear a hard hat.
I admit I freaked out just a little – haha, a hard hat on my bride's perfect updo?! I knew I could fix her hair if need be but I thought "oh no!". Takara and I came up with a plan – she and I took turns holding the hat very gently over her head. But, wooh!  We didn't mess up the hair. Not a perfectly finished strand out of place.A great team was assembled and off we went to the site.
When we arrived, we had to put on construction boots…which was a good thing because later I heard a scraping noise coming from my boot and I had stepped straight on a nail. The boots saved my butt! Or foot, I mean. Rounding out the look was a neon construction vest and hard hat. Stylish!
It was neat to see the rooms before they were furnished – so, so pretty with a great mix of modern and cozy, hues of yellow and blue throughout, mosaics on the walls, and light fixtures with hanging glass pebbles.
When I walked on to the balcony and looked out, it didn't even feel like I was in Florida. Maybe more like North Carolina or something.
The design is so beautiful and subtly different from the other nearby hotels. This is the first "non-Disney" hotel to become a part of the Walt Disney World Resort!
The look I did on our bride was very timeless, classic and sophisticated (much like the setting). She had chin length hair, but I was able to do an up-do! A lot of people think if they have short hair, an up-do is just not possible. Oh, it's possible alright and at great heights! Her makeup was very classic, eyes not too dramatic but just enough to make them pop. I finished the look with a bright plum-pink on her lip. The finished look was much like a blonde Audrey Hepburn.
If you are planning an Orlando destination wedding, the brand new Four Season Resort Orlando (and About Face Design Team) should be top of your list!
Send me an email kalie@aboutfacedesignteam.com and tell me what look you are thinking of for your wedding. AFDT can reserve your date up to a year in advance! I'd love to help make your wedding dreams come true.
Love and lip gloss,
Kalie/Bridal Department Coordinator