Learning how to choose wedding hair and makeup artists in Orlando is easy! All you have to worry about is saying "Yes," and "I do!" We can handle the rest. 
Over the last several years, I have been asked time and again the same 2 questions:
"Why do you require a deposit to book wedding hair and makeup?"
"Why do I have to book wedding hair and makeup with a deposit so far in advance?"
I am going to try to answer these 2 questions as best I can to help you understand how to choose wedding hair and makeup artists in Orlando. So, hang in there with me so I can help you understand.
1. Booking Hair and Makeup for a Wedding
First, I will tackle question #1 about booking hair and makeup for a wedding in Orlando: "Why do you require a deposit to book wedding hair and makeup?" The answer is simple.
The Orlando, Walt Disney World area, Central Florida, and Florida beaches are hosts to some of the most celebrated and desired destination wedding locations in the country. Because of this, professional and top-notch wedding vendors are in high demand. 
This means, due to the influx of weddings in Florida, vendors must stay on their tiptoes and get commitments from couples (with money down) in order to fulfill all that they promise and all that the couples expect. From wedding venues, photographers, florists, entertainment, wedding hair and makeup; there are no exceptions! 
In this day and age with the ability to book vendors right at your fingertips, brides are anxious to get what they want when they want it. So, the minute you decide you want to book a vendor, you better not hesitate. 
Once you have done your research and find what you're looking for, grab it fast because right behind you is another bride who is planning her wedding on the same date as you! At About Face Design Team, we have found that if we fail to tell a bride this information, she waits to book with us and loses the booking to another bride (remember, there are only 52 weeks in a year and we can only do so many weddings on any given day) and because of this, she can be quite upset with us and we don't want that! So we try to educate every bride on the importance of finding and booking the perfect wedding hairstylist and makeup artist that will work in tandem with her personality,  style, vision and what suits her needs best.
The best way to find the right wedding hair and makeup artists requires a lot of work. You want to make sure you:
Do your research

Check reviews

Speak to a contact person

Address concerns or special requirements
If you have done your research, by all means, don't be afraid to put down a deposit for your wedding date.  
Most, if not all, of the wedding vendors who have met the above criteria, are in the business to serve you and give you a 100% guarantee that you will be happy with their services! If not, they would not be in business. 
You have to have trust and move forward or you may lose your chance to have the best vendor for your wedding day experience.
A good place to see reviews for any local vendor is by checking out The Knot. The Knot can help you find the perfect hair and makeup artists. They also give out awards for amazing service. For the last few years, we have been "The Knot Best of Weddings" winner. 
2019 Best of Weddings Winners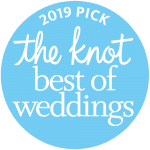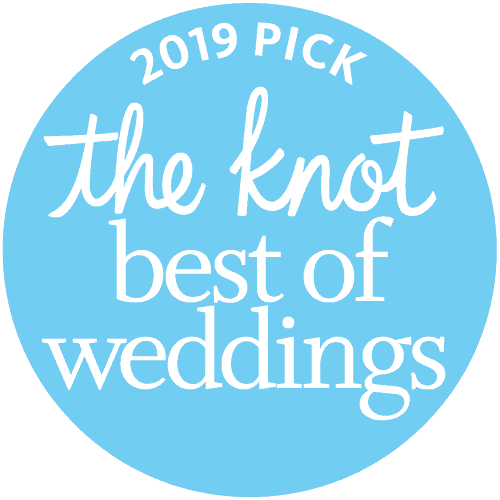 "The Knot Best of Weddings is an annual award that recognizes the top wedding vendors across the country. This prestigious honor distinguishes vendors who are trusted, dependable, and fun to work with. They have dazzled and delighted their couples, and it definitely shows."
2. Wedding Hair and Makeup Deposit
Now to answer question #2: "Why do I have to book wedding hair and makeup with a deposit so far in advance?" 
This really goes back to the same answer I gave for question #1. Because of the high demand for wedding services in Florida, the number of available reputable vendors gets lower because the volume gets higher and the demand gets greater. It can be a vicious cycle!  
As a couple getting married in Florida, the one thing you need to know is that reputable vendors who provide you with a great service don't mess around and they know that if you don't book with them, someone else will. Not only are the best vendors known for their talent, professionalism, and the amount of time they spend with every client, they are referred by some of the best wedding planners in the country!  
The best wedding hairstylists and makeup artists are no exception, and this could mean that we are booked way in advance, too. 
As a 5 Star company and "The Knot Best of Weddings" winner for several years in a row, we can be booked up to and over a year in advance—and we aren't the only ones. 
According to wedding expert Georgia DeFrancisco of Perfect Wedding Guide, "In 2019 Florida is the  #1 top destination wedding location in the country!" So, it is not surprising that there are some wedding vendors in Orlando, the Florida beaches, the Central Florida area, and especially WDW Fairytale Weddings, where certain dates are completely blocked off for years ahead of time. After all, Orlando is the most magical place on earth!
If you have questions regarding how to choose wedding hair and makeup artists in Orlando, or questions about our team of award-winning Orlando wedding hairstylists and makeup artists, or our Orlando wedding salon services, please contact us today or call us at 407-647-2700. You can also follow us on Facebook, Twitter, and Instagram. 
If you'd like to learn more about Georgia DeFrancisco or Perfect Wedding Guide, follow Perfect Wedding Guide on Instagram (@perfectweddingguideorlando) or on Facebook (@orlandoperfectweddingguide).